Latest in
---
Employees earning monthly salary of EGP 2,000 or below are exempted from deduction
---
Protestors chanted slogans calling for improved living conditions, reforms of country's security institutions
---
Officer charged with shooting to death socialist activist Shaimaa Al-Sabbagh during 2015 march to commemorate 25 January Revolution
---
The minister said that the state's public treasury will pay the second instalment worth EGP 170bn to the NOSI from the fiscal year (FY) 2020/21 budget, including EGP 35bn representing the five bonuses provided recently for pensioners.
---
Newly appointed ambassadors met with President Al-Sisi on Wednesday
---
At least 50 killed during protests as Ethiopia's Prime Minister calls Hachalu Hundessa's murder 'evil act'
---
Pharos Holding witnesses substantial leap on previous month, gaining first place, with trading value of EGP 7.2bn
---
---
Environment Ministry, NREA coordinated in on-demand shutdown at wind farms during migration season 
---
Cairo Opera House reopens with a bang as Egyptian star Mohamed Mounir scheduled to perform
---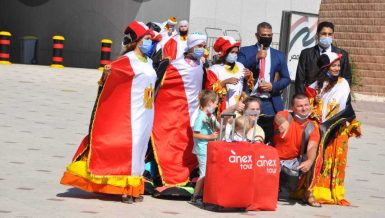 Red Sea tourist resorts will receive tourists from Ukraine, Switzerland, and Belarus, in next few days
---
At the end of last week, the National Bank of Egypt (NBE) reported that the Egyptian pound was trading at EGP 16.21 to buy and EGP 16.11 to sell. It currently stands after its appreciation against the US dollar, at EGP 16.17 to buy and EGP 16.07 to sell.
---
The CPC has reaffirmed its commitment to realizing its first centenary goal of creating a well-off society for 1.4 billion Chinese people on schedule. This transformation will be one of the world's most exciting stories in modern history.
---
End of Section